Kuang Si Waterfalls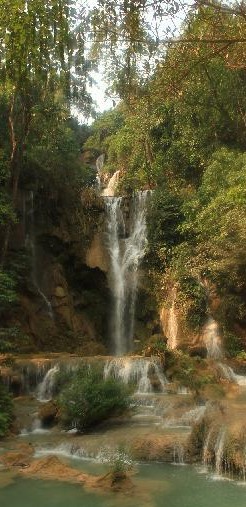 The tuktuk drive to Kuang Si Waterfalls was in complete contrast to the serene and peaceful atmosphere I was about to encounter. Bowel-wrenching might be a good way of describing the reckless journey round blind corners and along steep, rocky hillsides. Thirty minutes of begging the gods to save me, we arrived safe and nearly sound at the entrance to the forest which houses the waterfalls.
The first thing that greeted me, walking into the dense foliage, was a dozen Malaysian Sun Bears. Luckily, they were asleep and behind a wire mesh enclosure.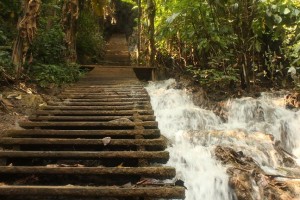 Continuing on, I got my first glimpse of falling water. Over 10cm in height, I was mightily impressed. Walking a few minutes more, I ate my words as I came across the actually impressive Luang Si. Not really one waterfall, but a series of nested falls that recede upwards into the hill, it really did leave me speechless (although it would have been weird if I had started talking, as I was on my own).
I had the whole morning here (before my flight in the afternoon to Hanoi), so decided to climb the ridiculously steep hill to the top of the falls. For some reason, no one else in the 30 degree heat wanted to do this. It was a challenge. The path at times ran wet and slippery past the flowing water; often it was actually in the water. Anyway, I got to the top and saw a sign directing me to a local village. The hill had plateaued here, making for an easy 3km walk to the village. Along the way, I saw all manner of creepy crawlies; giant centipedes, orb web spiders, processions of dozens of white butterflies dancing along the path.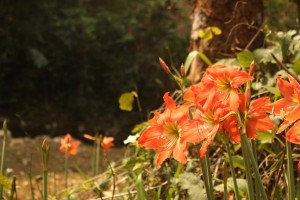 I got to the village, which was only inhabited by 1 woman, 2 children and a Buddha statue. I was sold a ticket to the local sacred cave – full more of spiders than holy blessings in my opinion. Also nearby, was a lovely fresh water spring, surrounded by wild flowers and millions of resting butterflies.
The voyage back was just as pretty, although the sun was now in full force. Luckily when I got back to the waterfalls, people were now swimming in the aquamarine pools surrounding them. With my head under a small waterfall, and small fish pedicuring my feet, I felt like a princess. I disturbed everyone elses peace by crashing down into the water from the incredibly tempting rope swing (although it was more fun watching the group of 60 year old balding German men do it instead).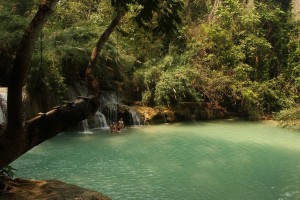 After cooling down, I walked back to the entrance and met my tuktuk driver. On the way back, we were accosted by two young monks who wanted a lift back into town. We had a friendly, awkward conversation, trying to teach one another our native languages (and failing). I arrived back at my hostel just in time to be picked up by a motorbike driver, which whisked me away to Luang Prabang airport, which in turn would allow me to cross the border into Vietnam.