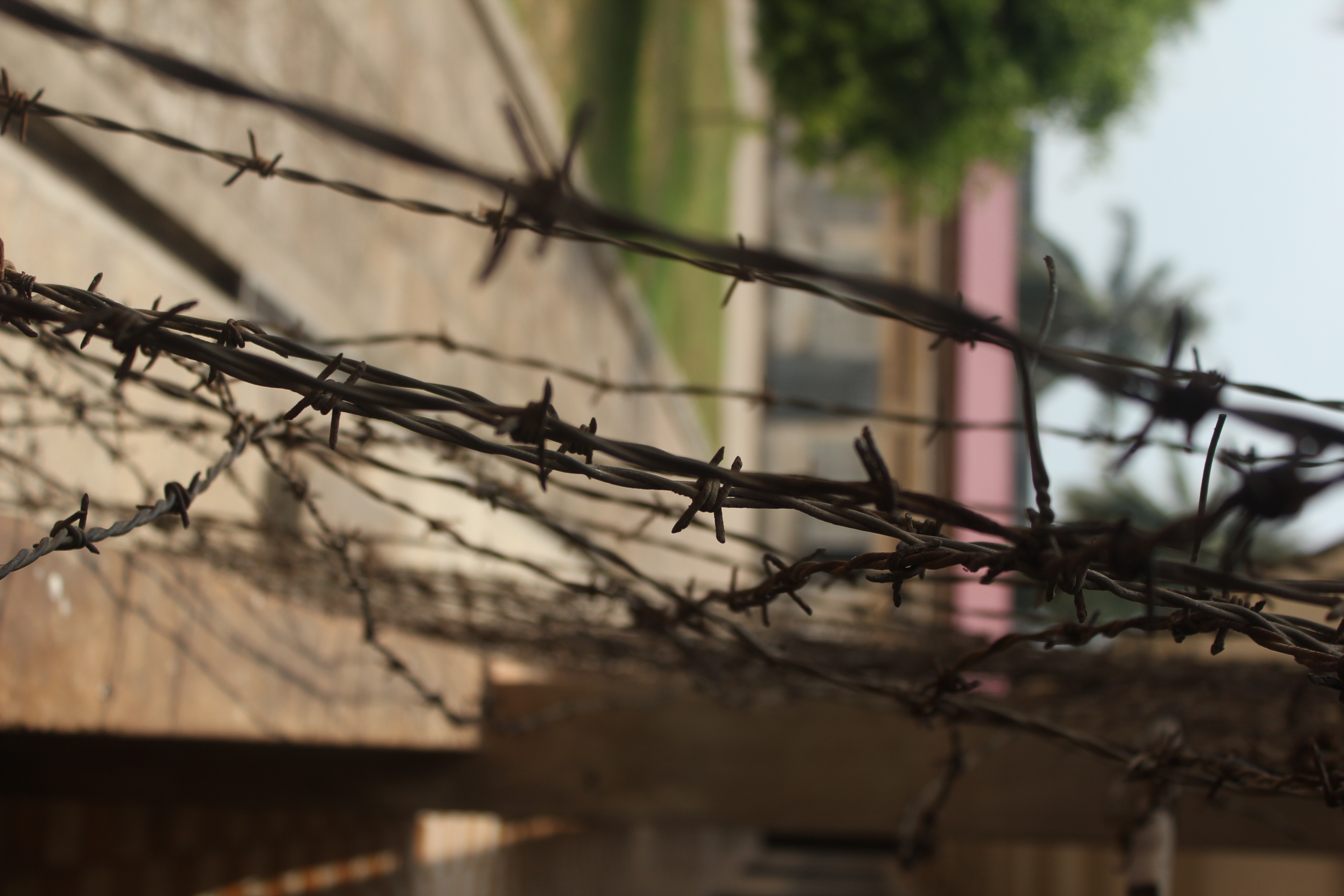 Ho Chi Minh was the most depressing place I had visited in Asia so far. This came about, not becuase of any fault of the city itself, but from two external factors. These being the Vietnam War and the weather. I don't want to equate these things as being of equal importance, obviously, but both contributed to my less-than-cheery mood while I was there.
Things started off well enough. Getting off the bus in the early afternoon, the weather was nice, there wasn't too much traffic about, and I had met a nice Vietnamese/American girl called Lawn, who bizarrely agreed to share the cost of a room with me in a little guesthouse. The guesthouse in question turned out to be little more than a single room upstairs for the two of us on two comfortable double beds, while the whole of the family (numbering six of them) slept on the hard tiled floor in the single room downstairs. It certainly was awkward returning home after a night of eating well and drinking better, treading cautiously among the old people and the children to our penthouse suite upstairs. They didn't seem to mind though, after all we were giving them the princely some of five dollars each.
The next morning, the War battered the good mood I had developed from the previous night. The two dutch guys I had met in Vietnam (Arjan and Erik) were coincidentally staying just next door to us, so we four set off to the War Remnants museum 30 minutes walk away. On the way, a local man on the pavement in the distance started yelling at us, with some obviously important information. Only when he got closer did we realise how important it was. Just ahead of the man, a small, but maliciously coloured snake was slithering along the path towards us. Like the terrified mice we were, we scampered to safety in the road. Only when the man was near did he tell us that this snake was apparently the deadliest in southern Vietnam. He seemed to be under orders to follow it about (not a job I would want) and warn unsuspecting pedestrians.
Anyway, the real horrors were to come. The museum, a drab, gray and unassuming building, contains some of the most emotionally charged exhibits I've ever seen. Outside, various examples of millitary machinery litter the forecourt, but didn't evoke any particularly strong response from me. Inside, though, are thousands of photos and documents recounting the Vietnamese side of the story. While much of the material is quite obviously propoganda (letters of support from various communist groups around the world, etc), most of it cannot be easily swept aside. On the top floor, entire rooms are plastered with photos of victims of Agent Orange – such a poisonous herbicide that it still affects generations today; horrible deformities that want to make one look away; of children turned into monsters; of so much pain its hard to take in in a single go. Other floors describe the brutalities of the war itself. The torture of women and children, and portraits of the emotional hollows that many of the US veterans who performed such actions became.
The Dutch guys left afterwards to find something more cheerful to do. As did me and Lawn. It was lucky that I ran into her. Being a Vietnamese and an American meant she understood almost all aspects of this sometimes bewildering culture and was able to translate it all perfectly to me. We wandered around together that afternoon, she showing me the less well known sides of Vietnamese culture, going to strange restaurants, eating strange fruits (heard of Jackfruit anyone? I hadn't. Its good though.) Speaking fluent Vietnamese also meant she was able to get us good discounts wherever we decided to spend money.
That was a fun afternoon, for sure, and it helped cheer my mood up from the black pit of dispair it had been after the museum. I was hoping the next day would be good as well, but a tropical typhoon that had decided to visit this day, ruined that plan. The typhoon seemed to have a good time; she was splashing and dancing in her rain for hours and hours. The tiny streets around my guesthouse soon filled with 3 or 4 inches of rain that couldnt drain away. My room was well stocked with a good sized television playing all the latest Steven Seigal movies and reruns of Tom and Jerry, so for a good number of hours I spent my once-in-a-lifetime trip to Asia vegetating in front of the box.
I went outside very briefly to get some lunch and a shave (which having grown in blonde and ginger was just plain embarrassing at this point). My trip instead of taking a few minutes as I planned took 2 hours. The lunch was quick, but the shave turned into something else. I;m sure I just asked for a shave, but what I got was a haircut, a shave, a moisturising scrub, an ear clean which went so deep I nearly broke an ear drum, a face massage, a hair wash and what felt like a chemical peel. Everytime I tried to get up to leave, they slapped some strange concoction on my face and shoved me back down. Think I ended up paying them 200 dollars or something stupid like that. I was the cleanest I had ever felt though, although that quickly changed as I marched through the dirty, acidy rain back home. It felt like quite a bit of a waste, to be honest.
I decided not to stay too long here, who knew how far my mood might sink. I booked my bus for Phnom Penh and my sixth country, Cambodia, for the next day. Read all about it, tomorrow.